Consistently rated 3.5+ hotel in the heart of town.
Close to shopping, banking and grocery store. 
Great Amenities
Each stay comes with a full breakfast every morning. Reach your room easily through elevator access.
Each suite has a full kitchen
Comes with refrigerator / freezer, full stove, microwave, and coffee maker.
Free Wifi!
Enjoy free high speed internet when you stay at Executive House Suites.
Select one of our comfortable suites
Each suite contains a full kitchen to assure full comfort and convenience.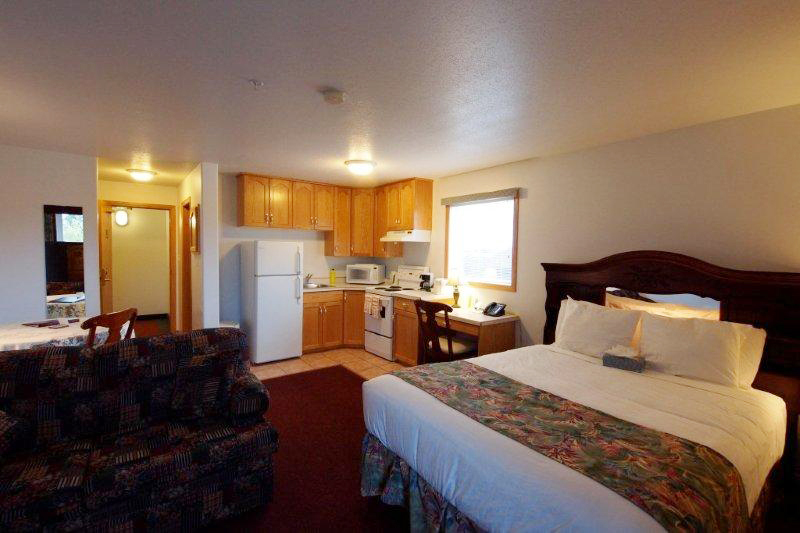 Executive Suite
One queen bed | Room sleeps 2 | Balcony off each room | Guest laundry on floor
What others continue to say about Executive Suites Hotel:
Very comfortable bed and the room was very quiet. Excellent breakfast!
Everything I needed and more. Rooms are well stocked, and very comfortable, quiet and close to everything.
Very spacious room with balcony and kitchen. Very clean and staff were very accommodating! Buffet breakfast was very good and included bacon and eggs. Highly recommend for family or business trip.
The Executive House Suites is always a go to for me when I go to High Level. The staff are friendly and the owner is warm and welcoming. Rooms are spacious and it's nice to have a kitchenette. Morning breakfast is also appreciated.
Liked it so much stayed again on the way south. Good place to overnight, good rooms and breakfast. Staff was friendly and helpful.
This property is like having a mini home away from home. Very well set up for a travelling worker.
Click below for Google Map directions.